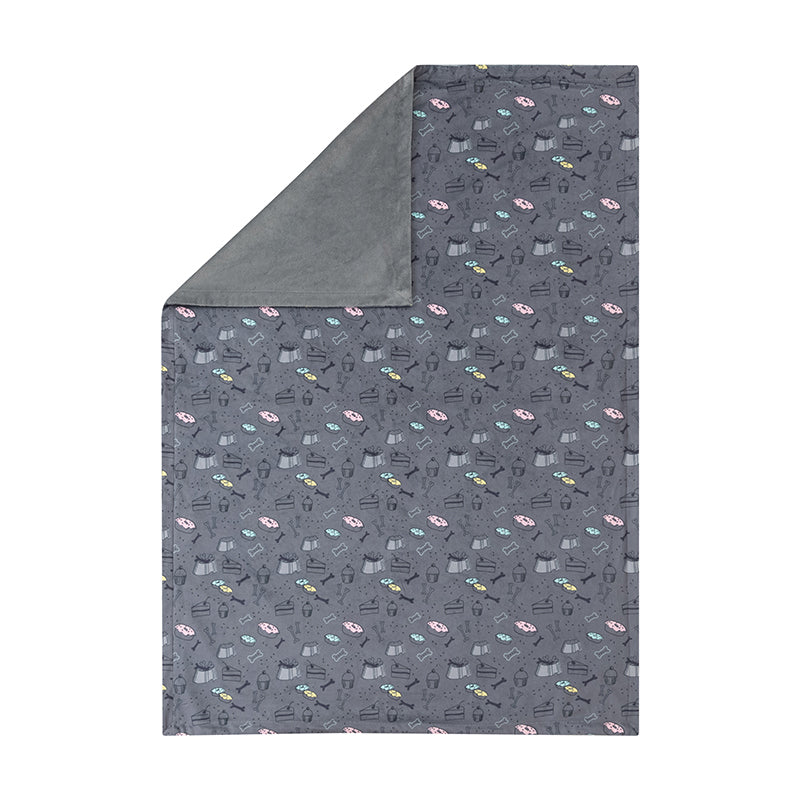 Printed with an exclusive La Doggie Vita Dog Treats hand drawn artwork, this blanket features you and your puppy's favourite things!...
Donuts, bones, cake, dog biscuits and cupcakes! And in a homewares-inspired colour palette with pops of pink, mint & lemon, this blanket will match back to any home.

This blanket is printed on soft minky material on one side and charcoal faux fur on the other and it is perfect for a couch or pet bed.
AVAILABLE SIZES:
Small (80CM X 60CM) This blanket would suit breeds such as Miniature Dachshund, Boston Terrier & Toy Poodle.

Medium (120CM X 85CM) This blanket would suit breeds such as Cavoodle, Staffy & Schnauzer.

Large (140CM X 100CM) This blanket would suit breeds such as Labrador, Boxer & English Bulldog.

FABRIC: 100% Polyester Soft (Minky) Fleece
Our customer service will be able to guide you through the best size for your pet. Please contact them if you have any questions.
CARE INSTRUCTIONS: Cold Machine Wash. Line dry or cool tumble dry (no heat). Do not bleach. Do not iron. Do not dry clean. 

It's story time! Your pup will just love these cute match backs!