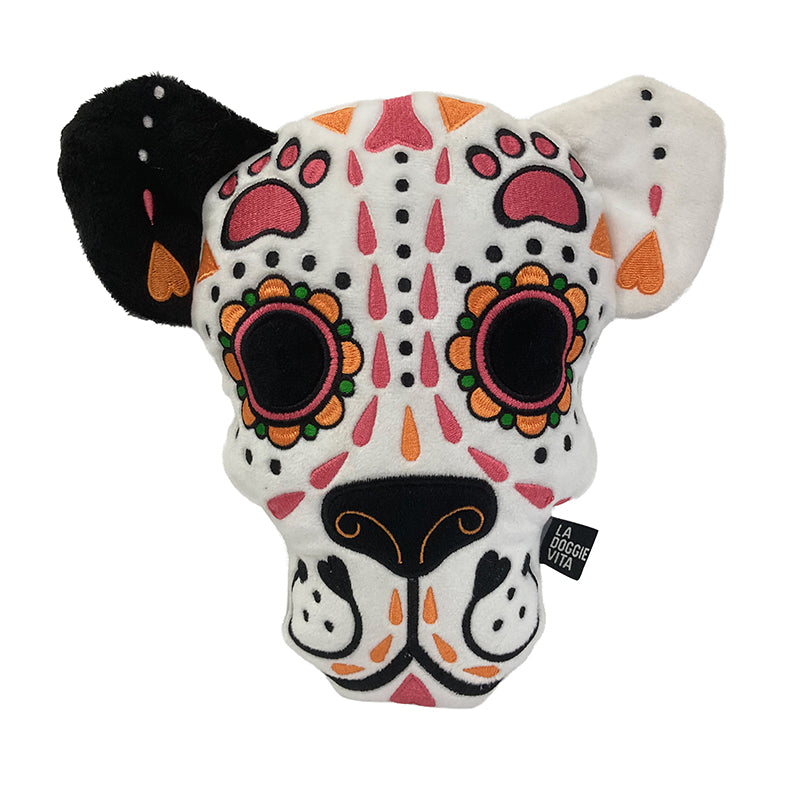 Halloween has screamed its way into the La Doggie Vita world!

Sugar Doggy is just plain cool. With its plush, multi-coloured embroidered face, including tear drops, hearts & paw prints and black nose, this toy is more than just a puppy play-thing! Folded plush ears with cellophane are perfect for any adventurous puppy game! Sugar Doggy even has an eerie Dog Skull embroidered on the back side.

And this unique toy comes with a squeaker inside for extra noise!
What's the perfect treat for Fido? Toys! Why not add a La Doggie Vita Plush Toy to your shopping basket? These cute toys are Australian designed & completely unique.

Suitable for light playing dogs
One Size (22CM X 8CM X 25CM)
FABRIC: Polyester outer & fill, plastic squeaker inside. All new materials.
CARE INSTRUCTIONS: Spot clean only, do not machine wash, all new materials.
ADDITIONAL INFORMATION: Pet toys should be used under supervision. This product us not indestructible. Please replace this product when worn or damaged. This product is intended for pets only. This is not a children's toy.
Your puppy friend may also howl over...
Garry Ghost Plush Toy with Squeaker, B positive Bat Plush Toy with Squeaker & Fishy Friend.