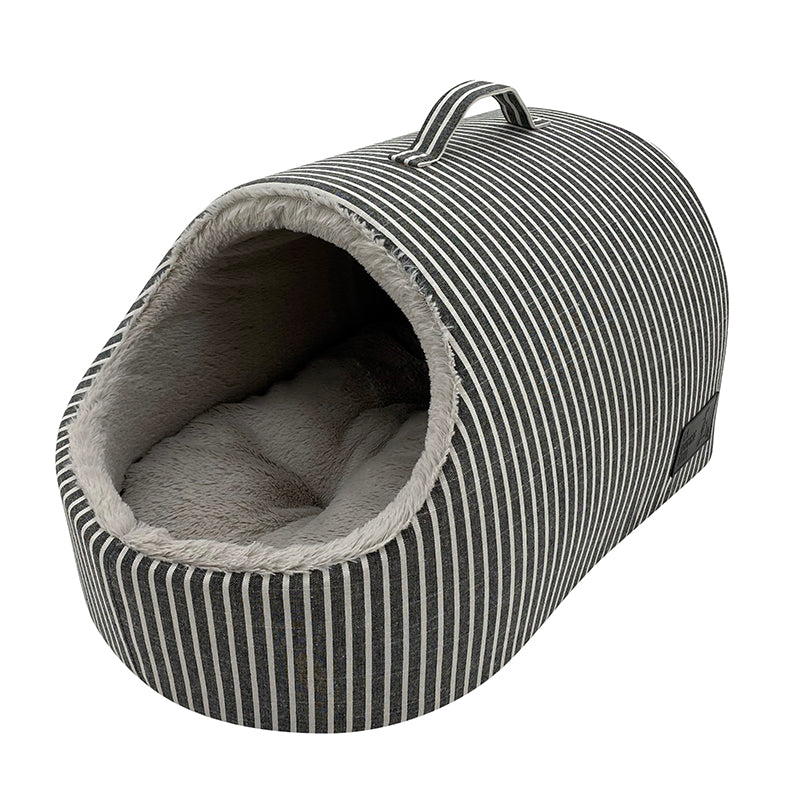 La Doggie Vita brings a new level of sophistication with the newest Hamptons-inspired range of bedding and accessories.
Clean white & charcoal stripes, matched back with the softest warm toned faux fur, makes for this pet bed to match to the interiors in your home perfectly.
This bed is an original and unique La Doggie Vita bed, designed from sketches in 2020, it features a sophisticated charcoal & white engineered stripe cotton & gripper fabric on the base for stability. It is a deep hooded hideway for security & protection.
The inner cushion is reversible & removable with engineered stripe on one side & faux fur on the other side. This bed is constructed using a thick fabric & foam to ensure bed stability and comes with a top material handle for easy movability.
AVAILABLE SIZES:
One Size (52CM X 35CM X 30CM HEIGHT)
Our customer service will be able to guide you through the best size for your pet. Please contact them if you have any questions.
FABRIC: Cotton / Foam & this product is filled with PET Recycled Plastic Fill.
CARE INSTRUCTIONS: Main: Wipe down only with a warm sponge. Inner cushion: Cold gentle machine or hand wash using mild detergent. Line dry in shade.
Your fur baby may also fancy...
Hamptons Stripe Cat Donut, Hamptons Stripe Bandana & Hamptons Stripe Travel Bed.