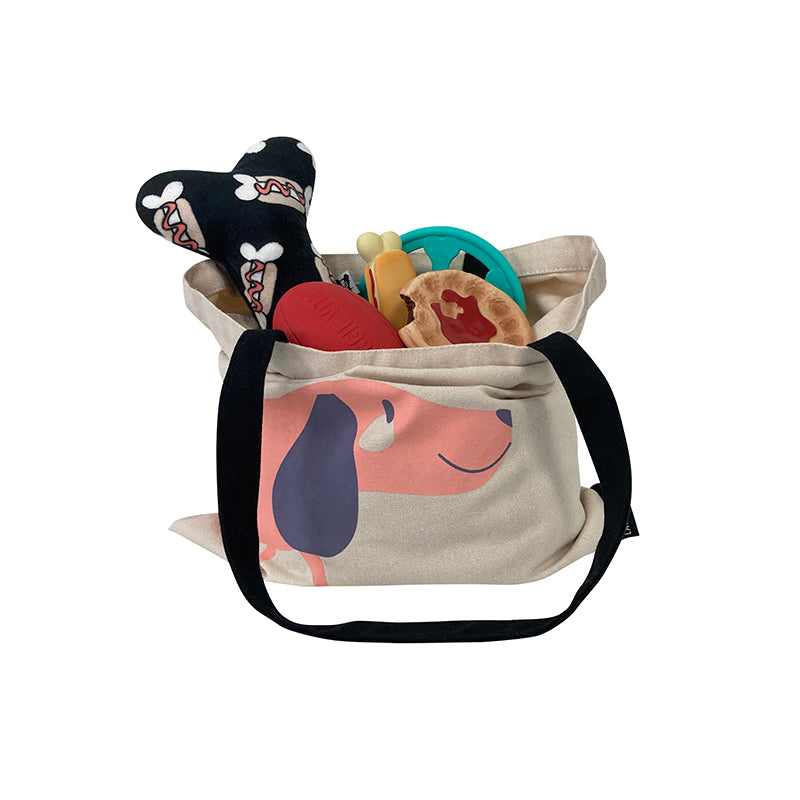 THE COUNTDOWN IS ON!! HAPPY FESTIVE SEASON!
HOT PRICE! 50% SAVING
We just love our fun range of Pet toys. They come in all shapes & sizes for your bestie! And now they come in cutest Dog Park Tote. And with a 50% SAVING, this is the best bag of goodies for your pet ever!

INCLUDED IN TOTE:
1 x Dog Park Tote (44CM LENGTH X 38CM WIDTH) Material: Canvas
1 x Plush Bone Toy with squeaker (Assorted prints) (24CM LENGTH X 15.5CM WIDTH) MATERIAL: Polyester outer & fill, plastic squeaker inside. 
1 x Small Paw Ball with squeaker (12CM LENGTH x 8CM WIDTH) MATERIAL: Natural Rubber
1 x Pie & Sauce with squeaker (10cm DIAMETRE X 4CM DEPTH) Material: PVC
1 x Small Roll-A-Bone Retrieval Toy with squeaker (14CM DIAMETRE) MATERIAL: Natural Rubber
1 x Small Hot Dog Bone Toy with squeaker (13CM LENGTH X 4CM WIDTH) MATERIAL: PVC
Our customer service will be able to guide you through the best size for your pet. Please contact them if you have any questions.
CARE INSTRUCTIONS FOR TOYS: Wipe down with a damp sponge. 
CARE INSTRUCTIONS FOR TOTE: Cold gentle hand wash or machine wash using mild detergent, line dry in shade. 
Your pooch may also fancy...

Snow Plush Donut, Dog Central Black Bandana & Dog Central Taupe Removable Cushion Round Bed.